Simeon Man
Simeon Man
Assistant Professor, History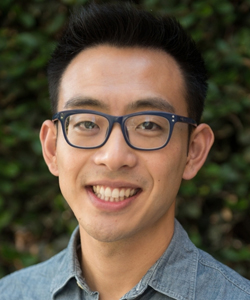 9500 Gilman Dr
Department of History
Mail Code: 0104
La Jolla , California 92093
Curriculum Vitae

Simeon Man received his Ph.D. in American Studies from Yale University in 2012. Before joining the faculty at UC San Diego, he was an Andrew Mellon Postdoctoral Fellow at Northwestern University (2012-14) and a Provost's Postdoctoral Scholar in the Humanities at the University of Southern California (2014-15).

Professor Man specializes in Asian American history and transnational U.S. history, with an emphasis on the politics of race and empire. His first book, Soldiering through Empire: Race and the Making of the Decolonizing Pacific (under contract with the University of California Press), is a cultural history of the U.S. military in Asia after World War II. The book explains how the U.S. state mobilized postcolonial subjects throughout Asia and the Pacific for the U.S. war in Vietnam (1950-1975), and in turn transformed the politics of race, nation, and empire in postwar U.S. culture. He has published in the anthology, The Rising Tide of Color: Race, State, Violence, and Radical Movements Across the Pacific (edited by Moon-Ho Jung, University of Washington Press, 2014), and has forthcoming essays in the American Quarterly (December 2015) and the Oxford Handbook of Asian American History (OUP: forthcoming, 2016).

Professor Man teaches introductory courses in Asian American history and transnational U.S. history, as well as specialized courses in the history of social movements, race and war in American culture, and the United States and the Pacific world.