Welcome from the Department Chair, Luis Alvarez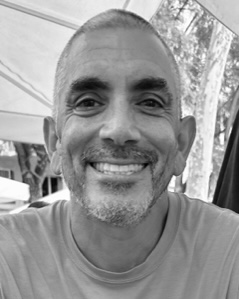 Hi Everyone!
As Chair of the Department of History, I am delighted to welcome you to the 2023-24 academic year!  This is an exciting time in our Department. Our amazing faculty, staff, students, alumni, and community partners help make History a wonderful place to work, study, and call home. It is my hope that you will help grow and strengthen our community by enrolling in classes, attending events, or just dropping by our beautiful facilities in the Arts and Humanities Building to say hello.  Whether in person or online, I hope to see you soon!
I am particularly excited to share news of our newest faculty colleagues!  Professor Bright Gyamfi is a scholar of West African and African Diaspora intellectual history, nationalism, Pan-Africanism, Black internationalism, and economic development. Professor Sara Kozameh specializes in the history of the Cuban Revolution, social movements and popular uprisings, agrarian history, and Black radicalism. Professor Julia Lewandoski is a historian of early Native America, using law and cartography to focus on Indigenous nations as they engaged with European empires and emerging nation-states. We are thrilled to welcome them into our faculty ranks and hope you will soon have the opportunity to meet them, take their courses, and read their amazing research.
Our forty full-time faculty members teach thousands of undergraduate students a year; train Ph.D students to become the next generation of professors; publish award-winning research; and engage the world through a range of public and digital history projects.  We embrace the many different pathways of doing history and invite you to peruse our website to learn more about what we do!
Coming together as a community is especially important now. The last few years have been challenging for all of us.  We have witnessed the devastating impact of the Covid-19 pandemic, on-going racial tensions and political divisiveness, the deepening effects of the global climate crisis, and so much more. Our goal in the Department of History is to work together to ensure everyone has the opportunity to thrive.  Let us share our individual and collective resilience, strength, empathy, and courage to inspire and support one another.  What better place than the Department of History for a shared project that seeks to understand the past, make sense of the present, and imagine a better future?
My colleagues, staff, and I are excited to be a part of this effort. Please consider this an invitation to join us!  I am always open to conversation, questions, and ideas, so please don't hesitate to be in touch.  Wishing everyone a fantastic year full of health, success, and happiness!
Luis Alvarez
Professor and Chair
Department of History