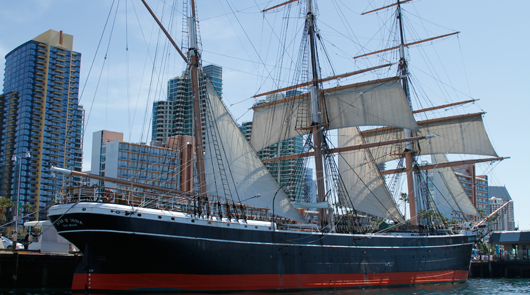 United States
Please refer to Fall/Winter/Spring/Summer Courses for course offerings. 
The nationally recognized program in United States History at UC San Diego has been a vital part of the University's teaching and research mission since the campus was established in 1960. The program is distinguished by the diversity of its eleven faculty members, the strength of its research clusters, and an equally strong commitment to high quality teaching at all levels of instruction. The program has particular strengths: the history of citizenship and civil rights, cultural history, maritime history, Mexican American and borderlands history, the study of political economy, race and ethnicity, transnationalism, urban history, and the history of women and gender. Faculty members in the U.S. program have won an impressive number of research fellowships, book and article awards, and other honors from the American Council of Learned Societies, the Charles Warren Center for Studies in American History at Harvard, the University of California Humanities Research Institute, the Ford Foundation, the Shelby Cullom Davis Center for Historical Study at Princeton, the Omohundro Institute of Early American History and Culture, the Woodrow Wilson International Center for Scholars, and others.
The U.S. History program offers students a range of courses and encourages engagement with historical themes from a variety of methodological and disciplinary approaches taught by faculty members who have won a number of teaching honors including the UCSD Faculty Senate Distinguished Teaching Award, the Diversity, Equity, and Inclusion Teaching Award, among others. In addition, many of our faculty are involved as affiliates of other campus departments and programs including the Department of Ethnic Studies, the Center for Comparative Immigration Studies, the Program in Critical Gender Studies, the Center for Iberian and Latin American Studies, the Chicano/Latino Arts and Humanities Program, the Urban Studies and Planning Program, the Institute for International, Comparative, and Area Studies, and the writing programs of UC San Diego's six individual colleges. Students in the U.S. program are regularly encouraged to broaden and deepen their training in history by working with scholars in these other fields.
In addition to these resources, U.S. history students have access to a rich array of other resources to support their research and course work. The Geisel Library holds millions of monographs, academic journals, and microform sources and students also have ready access to the library resources of the other nine UC campuses. In addition, the library has an extensive collection of online academic journals, government documents, primary source material, and other digital sources. UCSD U.S. history students also have access to the rare books and primary source material held in Mandeville Special Collections, which specializes in the history of California, Latinos, and the U.S.-Mexico borderlands.