Michael Parrish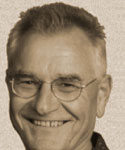 9500 Gilman Dr
Department of History
Mail Code: 0104
La Jolla , California 92093
Curriculum Vitae
Publications
Current Research
Courses
Curriculum Vitae

Michael Parrish joined the UCSD Department of History in 1968 and served as department chairman during the early 1990s. He received his BA degree from the University of California, Riverside in 1964 and his PhD from Yale University in 1968. He teaches courses on the history of American law and American politics and culture since the Civil War.

Professor Parrish will be on sabbatical leave during the Fall Quarter, 2004.
Publications
Securities Regulations and the New Deal (Yale, 1970)
Felix Frankfurtur and His Times: The Reform Years (The Free Press, 1982).
Anxious Decades: America in Prosperity and Depression, 1921-1941 (W.W. Norton, 1992).
The Hughes Court: Justices, Rulings and Legacy, (ABC-Clio, 2002).
"Cold War Justice: The Supreme Court and the Rosenbergs," American Historical Review, 82 (October, 1977), 805-842.
"The Great Depression, the New Deal and the American Legal Order," Washington Law Review, 59 (September, 1984), 723-50.
Current Research
Citizen Rauh: An American Liberal's Life in the Law and Politics.
"A Lawyer in Crisis Times: Joseph L. Rauh, Jr., the Loyalty-Security Program and the Defense of Civil Liberties in the Early Cold War"
Courses
HILD 2C. The United States in the 20th Century.
HIUS 150. American Legal and Constitutional History: Colonial Era to Civil War.
HITOP 87. Freshman Seminar: War in the Theatre.
HIGR 265C. Literature of American History.
DOC 2. Justice